by Alex Etzen
Announcements
Sarah and Kris crushed the Women's WOD JAM Team CrossFit Competition on Saturday. They tied for 2nd but ended up with 3rd by criteria. If you are interested in doing a competition let a coach know and check out the Events page on XSCrossFit .com here is the link to the event page https://xscrossfit.com/events/
.
XS CrossFit – General CrossFit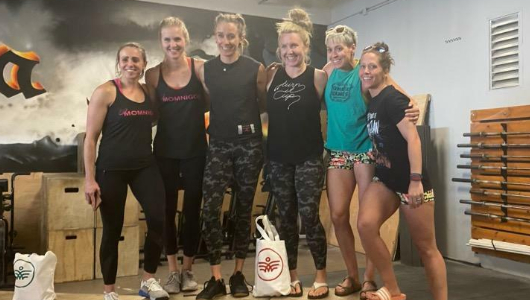 Sarah and Kris 3rd place at Women's WOD JAM Competition on Saturday.
Weightlifting
Power Clean (6 x 90 seconds)
6 x 90 seconds

3 Position Power Clean Complex/ 3 Push Jerk

– 1 @ High Hang Power (pocket)

– 1 @ 1″ above the knees

– 1 @ Floor

– Then 3 Push Jerks

Round 1 @ 50% of 1 RM Power Clean

Round 2 @ 55%

Round 3 @ 60%

Round 4 @ 65%

Round 5 @ 65-70%

Round 6 @ 70-75%
Metcon
AMRAP: Metcon (AMRAP – Reps)
7 Min AMRAP

Ascending Ladder of Clean and Jerks and Toes to Bar

3 Clean and Jerks (135/95) (95/65)/ 3 Toes to Bar (Knee Raises)

6/6

9/9

12/12

15/15
Continue 3 reps up ach round until 7 minutes are up