by Alex Etzen
Announcements
In-house Team Competition!
*** Only 7 spots left ***
– Here's what you need to know and the link to sign up.
– It will be on Saturday August 13th from 8am to 4pm.
– Sign up is $35 (by 7/31)
– All you have to do is sign up and we will build even teams of 4 people.
– If you haven't done this event before it is a lot of fun! We go all out on making it feel like a high end competition but anyone can do it. This event will test the fittest athletes in the gym along with allowing new athletes to do great and not feel like they're holding a team back.
– Talk to a coach with questions or email Alex@XSCrossFit.com
– Here is the link to sign up.
https://xscrossfit.wodify.com/OnlineSalesPortal/PurchaseByKeyEntry.aspx?Key=3YCq0JTDRqkxJZqn9PcWqCeKY
.
FNL Volunteer
If you would like to help out with one of the 4 FNL events go to the link below. FNL will be at XS on 7/29. Ask a coach for more info.
https://competitioncorner.net/events/7691/details
.
Volunteer Sign Up for In-House Comp!
– We need Judges and event crew. If you're not able to compete we can definitely use the help making this a great event. Here is the link to sign up as a Volunteer.

.
XS CrossFit – General CrossFit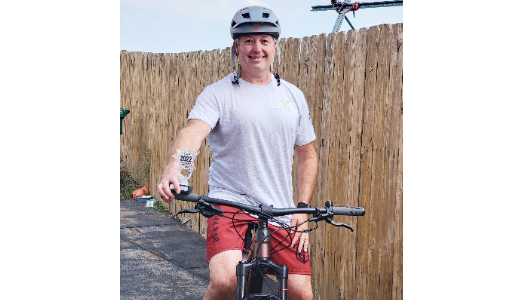 Daniel Yoder is the July Athlete of the Month! You can see him crushing WODs at the 2:15pm and 3:30pm classes. Keep up the hard work Yoder!
Warm-up
Warm-up (No Measure)
1 ROUND

– 1:00 EZ AB

– 10 Slam Ball Deadlifts

– 8 Alt. Groiners

– 6 Plank to Pikes
INTO…
2 ROUNDS

– :45 MOD AB

– 10 Slam Ball G2OH

– 8 WB Thrusters

– 3 Burpees
Workout
Metcon (Calories)
IN TEAMS OF 2…
AMRAP x 20 MINUTES*

– 12 Slam Balls (35/25)[RX+ 45/35]
– 12 Wall Balls (20/14) [RX+ 30/20]
– 6 Burpees
*While P1 Works Through One Round, P2 Accumulates Max Cals on AB. Once P1 completes the Burpees, Switch.
(Score is Total Cals)

(Enter Rounds completed in Notes)
Finisher
ROMWOD